Treatment and Management of the Pregnant Patient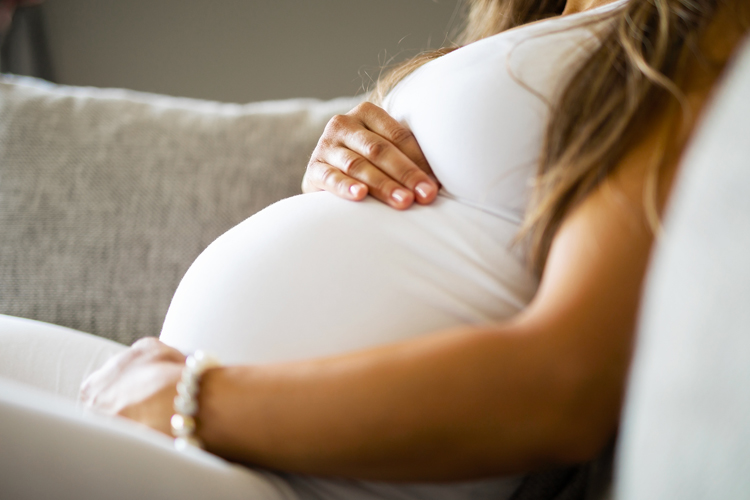 Ivianie Exinor, RDH, MPH, and Gabrielle R. Liquori, RDH, BSDH, CDA, provide an overview of how the dental hygiene process of care and the shared decision making model is applied when treating pregnant patients. 
Treatment of the pregnant patient is of great importance during every trimester. According to the United States Centers for Disease Control and Prevention (CDC) and the American Academy of Pediatrics, good oral care during pregnancy creates the gateway for good oral health during childhood, adolescence, and beyond. 
This article will demonstrate that dental treatment during pregnancy poses no risk to the mother or child if protective measures are implemented. Additionally, the dental hygiene process of care will be used to explain the sequence of care, and the shared decision making model will show collaboration in the creation and acceptance of treatment plans by the patient.
INTRODUCTION
Pregnancy triggers a host of adverse physiological, oral, and systemic changes.1–7 Physiologically, the pregnant woman can experience increased discomfort in sitting, standing, breathing, and lying positions.2,6  In the oral cavity, these changes can lead to an increased risk of dental and gingival problems and/or exacerbate pre-existing conditions.3 Systemic changes can lead to increased consumption of cariogenic and acidic foods and stimulate hormonal and gastrointestinal transformations that can lead to nausea, vomiting, and acid reflux.2, 6 Furthermore, these changes can lead to gingival inflammation, tooth erosion, and decay, or worsen previously unmet dental conditions.2, 4, 7 The CDC,  American Dental Association (ADA), American Academy of Pediatrics, and  American Academy of Periodontology recommend dental treatment during every phase of the pregnancy to promote positive health outcomes for mother and child.1,3–7 
AMERICAN DENTAL HYGIENISTS' ASSOCIATION'S STANDARDS FOR CLINICAL DENTAL HYGIENE PRACTICE
The first standard in the six-part Standards for Clinical Dental Hygiene Practice sequence is assessment. This includes overall data collection, evaluation, and recording to include addressing patient's requests and concerns.8 Standard 2 is dental hygiene diagnosis, which measures health behaviors, attitude, and oral care needs. Followed by Standard 3: Planning, which puts together the best evidence-based intervention that will lead to positive health outcomes. Implementation, or Standard 4, is the delivery of dental hygiene care based on the patient's contribution. Standard 5: Evaluation consists of using evidence-based information to assess the success of treatment.8 Lastly, documentation is used for record-keeping, sharing as well as progress measuring.8
ORAL ASSESSMENT BY TRIMESTER
First Trimester
During this initial visit, a thorough review of the health history is conducted to learn about medical conditions, previous dental experiences, radiographs, medications (prescribed or non-prescribed), diet, and other pertinent information.8 It is necessary to have the most recent set of dental radiographs for the patient. If it was previously taken but not available, a copy can be requested by the patient. If the patient has pain, then selective or additional radiographs should be taken as prescribed by the dentist for proper diagnosis. Using lead aprons for the patient and fetus, with minimal radiation exposure or as low as reasonably possible, are some of the necessary protective measures needed before capturing radiographs.6 Next, the dentist or hygienist will conduct an extraoral and intraoral exam; and a gingival, dental, and periodontal evaluation to assess for health, infection, inflammation, soft and hard deposits, plaque, bleeding, and decay. 9
The dental care provider will also inquire about the patient's homecare routine, parafunctional habits, and assess oral health literacy. For social history, information about substance abuse such as tobacco, alcohol, or drugs is considered pertinent to the dental team to do cessation counseling or refer the patient to other healthcare providers for services if needed.
Planning of Intervention. Using the shared decision model, the dental care provider will include the patient in the decision-making process.8, 10 Whether it is regarding the time of treatment, the sequence of implementation of the dental cleaning, or scaling and root planing (SRP) and maintenance, the patient should have a role in decision making regarding her care.8 Nutrition information, oral hygiene instruction, and compliance with recommendations should be discussed as well. Scheduling of additional appointments as needed and agreed upon can be discussed and planned.
Implementation of Intervention. During this phase of care, the treatment plan agreed upon based on the decision-making model is used.8 If the patient suffers from nausea and vomiting, interview the patient. Ask questions about their nausea and vomiting such as, does certain tastes or smells trigger an episode or you may ask if they feel nauseous at certain times of the day. This will allow the provider to properly schedule the patient and to avoid any incidences of nausea or vomiting during the appointment.6  Oral hygiene instruction is always necessary to help the mother maintain oral health and/or alleviate potential dental and gingival diseases. Next, treatment for initial or second prophylaxis with fluoride or a revisit for 1-2 quad(s) SRP with oral hygiene instruction and nutritional counseling. Maintenance and recall appointments should be implemented at each current visit before the patient's dismissal. During the follow-up visit, the dental professional must reassess to see if the interventions were successful.8 It is necessary to always review and reinforce homecare at each visit or as needed.
Second Trimester
During the second trimester nausea and vomiting usually stop. Therefore, the patient can be in a supine position comfortably.11 This time is ideal to do dental treatment because it is most comfortable for the patient. It is important to remember that during the second and third trimester the fetus is undergoing rapid growth and weight changes which may affect the mother's breathing and blood pressure.11 Patient positioning is very important to avoid postural induced conditions such as dizziness and hypotension.11
Third Trimester
In the third trimester, the pregnant patient should visit the office once more if there were findings such as high plaque index, new caries, and unresolved gingival inflammation at the previous appointment. These findings would indicate the need for additional care and reinforcement of oral hygiene instruction. 6 Patients who present with mild or moderate gingivitis should receive another prophylaxis.6
In the third trimester, it can be physically uncomfortable for the patient to be in a supine position.8 To relieve the pain, the clinician can place the patient in a semi-supine position or the patient can lay on her left side.9 This position eliminates venous blockade and promotes increased oxygen circulation.9 Additionally, due to the progression of the uterus, the dental hygienist can offer a pillow or rolled-up towel to support and elevate the patient's right hip.11  This will shift the uterus to the left- a more comfortable position for the patient and fetus and alleviates the feeling of nausea, discomfort, and dizziness.11
CONCLUSION
The goal of treating the pregnant patient is to ensure that both mother and fetus are healthy and not at risk of an adverse effect due to unmet dental and gingival needs. There is enough evidence-based information available that supports and reaffirms that it is acceptable for clinicians to treat pregnant patients during every trimester.  
REFERENCES
US Centers for Disease Control and Prevention. Dental Care is Safe and Important During Pregnancy. Available at:

cdc.gov/oralhealth/infographics/dental-care-pregnancy.html

. Accessed June 16, 2021. 

Oral Health Care during Pregnancy and Early Childhood Practice Guidelines. Available at:

health.ny.gov/prevention/dental/oral_health_care_pregnancy_early_childhood.htm

. Accessed June 16, 2021. 

American College of Obstetricians and Gynecologists Committee on Health Care for Underserved Women. Oral Health Care During Pregnancy and Through the Lifespan. Available at:

acog.org/clinical/clinical-guidance/committee-opinion/articles/2013/08/oral-health-care-during-pregnancy-and-through-the-lifespan.

Accessed June 16, 2021.

American Dental Association. ADA Current Policies, 1954-2020. Available at:

ada.org/en/member-center/leadership-governance/historical-publications-policies.

Accessed June 16, 2021. 

American College of Obstetricians and Gynecologists Committee on Obstetric Practice and the American Society of Anesthesiologists. Nonobstetric Surgery During Pregnancy (Number 775). Available at:

acog.org/clinical/clinical-guidance/committee-opinion/articles/2019/04/nonobstetric-surgery-during-pregnancy

. Last accessed June 16, 2021.

Wilkins EM.

Clinical Practice of the Dental Hygienist

. Philadelphia: Lea & Fehiger; 1989 

America Academy of Pediatrics. Helping You Help Moms. Available at:

https://services.aap.org/en/news-room/campaigns-and-toolkits/oral-health/

. Accessed June 16, 2021. 

American Dental Hygienist's Association. Standards for Clinical Dental Hygiene. Available at:

adha.org/resources-docs/2016-Revised-Standards-for-Clinical-Dental-Hygiene-Practice.pdf

. Accessed June 16, 2021. 

Chiodo GT, Rosenstein DI.

Dental treatment during pregnancy: a preventive approach

.

J Am Dent Assoc.

1985;110:365–368. 

Agency for Healthcare Research and Quality. The SHARE Approach: A Model for Shared Decision making–Fact Sheet. Available at:

ahrq.gov/health-literacy/professional-training/shared-decision/tools/factsheet.html.

Accessed June 16, 2021. 

Rainchuso L. 

Improving oral health outcomes from pregnancy through infancy.

J Dent Hygiene

.2013;87:330–335.