Getting through dental hygiene school is not easy. It requires dedication, organization, focus, and being able to find levity in stressful situations. Prioritizing self-care and time to connect with peers is a must to help you get through the demanding schedule. If you are just beginning or 1 year into your dental hygiene program, we want you to know you're not alone.
Dimensions Brand Ambassador Alana Barton, EDDA, shares how she is making it through the dental hygiene program at Midlands Technical College in Columbia, South Carolina.
EARLY START
Like clockwork, I wake up at 6 am for school and choose what color of scrubs I want to wear that day. I am lucky that my schedule requires me to wear scrubs daily so I don't have to worry about what to wear. I start my morning in dental hygiene school at 8 am, but I don't like to be rushed, so I arrive at least 30 minutes early. I try to use that time to refresh on the previous day's work, or to prepare for what I am doing that day. Depending on the day, my first class is pre-clinical hygiene or dental materials. Pre-clinical dental hygiene is split up from a 90-minute lecture in the morning and a 3-hour clinic in the afternoon; whereas dental materials is a combined lecture and clinic for 3 hours.  
MORNING CLINIC
By midmorning, I'm either in dental materials clinic or in a 90-minute lecture on head and neck anatomy. Our dental materials class is very in-depth. We learn about different types of restorations, instruments, and procedures, as well as charting. We spent almost a month taking impressions on each other to ensure we are competent to take whitening tray impressions once we start seeing patients. I am lucky to have more than 10 years of experience in taking impressions, but I do not like getting impressions taken on me, so I was glad when that proficiency was completed! Our instructors stress the importance to take what we learn from this class so we can be better team members in private practice.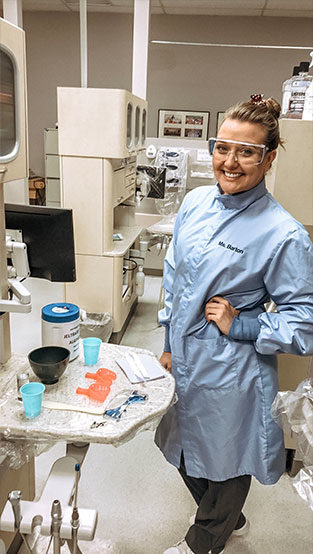 PRACTICING CORRECT POSTURE
Our days with dental materials are shorter and, after lunch, we have tooth morphology and histology. We spent half of the semester in morphology, and just transitioned to histology. After histology, we are released for the day unless we have mentoring (additional clinical time). Other days we transition to pre-clinical hygiene time in the clinic where we work on each other. We just finished a practical on probing and exploring and will be finishing the semester with mechanical scalers. The program required purchasing loupes at the start of the semester, so we have been practicing proper ergonomics throughout the program. I appreciate that the program is dedicated to saving our bodies from guaranteed wear and tear.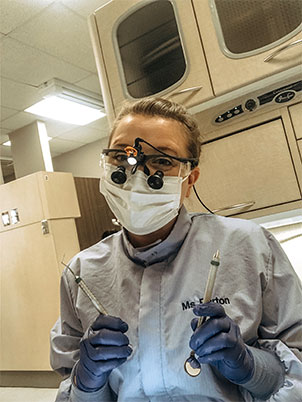 QUIZZES, QUIZZES, AND MORE QUIZZES
Following pre-clinical hygiene, we transition to medical emergencies. Personally, this class requires the most attention to detail! It is the class where the whole question needs to be read and digested before choosing an answer because some of the answers could be a medication that looks similar to the actual medication answer. Some classes have daily, on-going quizzes and medical emergencies is one of those classes. When it comes to test-taking and test preparation, I find it easier to organize the information based on any prep or homework questions, and then use the material outlined in a study guide and any bold or colored information on the PowerPoints. I also focus on my closer targets, such as the test for the week or next week, not next year.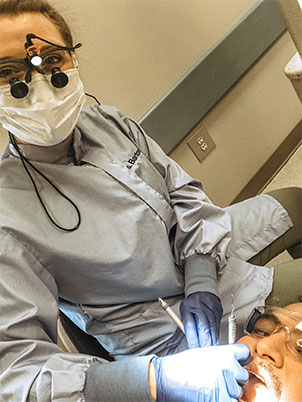 ME TIME
We are dismissed around 5 pm on long days but are out of class by 2 pm on shorter days. I try to use my shorter days to do things for my well-being, such as going to the gym, applying a face mask, and drinking tea, or just de-programming from school mode for a couple of hours before hitting the books. I always make sure to set a time limit on studying and homework, and never go past 9 pm. Sleep is very important to me, and I do not function well when I don't get my 8 hours. Coffee and caffeine are my best friends in the mornings. But I make sure to stay hydrated throughout the day—if your cells aren't functioning well, you are not going to function well!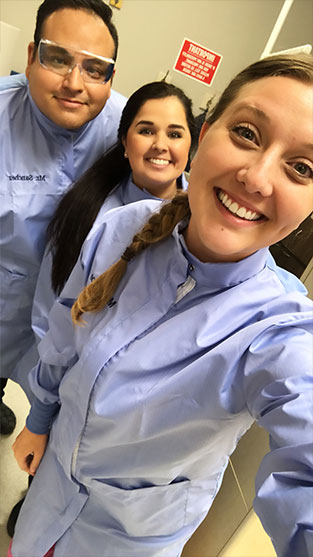 HOW I THRIVE
No matter who you are or how much experience you have, you will experience stress and get overwhelmed during this program. I urge dental hygiene students to find an outlet to de-stress for a couple of hours, a few times a week; it refreshes the mind and will help you focus better. It is also important to not take the stress home with you because while dental hygiene is your passion, it is not the same for the people around you outside of school. It is paramount to have positive relationships and limit negativity.