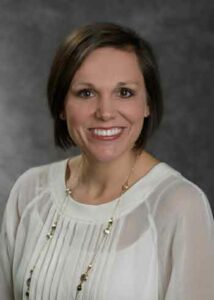 By the time Claire Tucker, EdD, RDH, graduated from the University of Arkansas at Fayetteville with a Bachelor of Science in Biology in 2005, she knew she wanted to pursue a profession in healthcare. Says Tucker, "I chose dental hygiene because I believed it would allow me to not only aid in improving the overall health of Arkansans but to build authentic relationships with my patients."
Now chair of the Dental Hygiene Department at the University of Arkansas for Medical Sciences (UAMS), Tucker recounts her career path and efforts in developing a new dental clinic. Opening in March, the clinic offers sealant administration to at-risk children, and is said to play a significant role in improving public health in a state riddled with dental professional shortage areas.
1. At what point did your career take you into academia and lead to you earning a Doctor of Education degree?
As a dental hygiene student, I knew my ultimate goal was to teach dental hygiene. I had a heart to serve students and to contribute to the dental hygiene field by educating future dental hygienists. After a year into my career at the UAMS, I decided to pursue a doctoral degree in education to improve my abilities and skills in teaching and administration.
2. As president of the Arkansas Dental Hygienists' Association (ArDHA ) in 2019 and as chair, associate professor, and current program director of the Dental Hygiene Program in the UAMS College of Health Professions, what has been your primary focus?
I'm focused on enhancing the clinical and didactic curriculum in order to graduate competent dental hygienists with the skills to be life-long learners. Another focus has been to encourage graduates to continue serving Arkansas and to remain active in ArDHA. The program continues to partner with ArDHA through community service events including dental screenings, head and neck cancer screenings, and sealant clinics.
3. The UAMS Dental Hygiene Clinic moved to a new space at the beginning of the year. Considering the COVID-19 pandemic, what went into its development?
In contrast to the open floor plan of the previous clinic, the administration provided a larger space to better safeguard patients, students, and faculty. The new clinic has 20 separate treatment rooms and five X-ray rooms. Individualized treatment rooms eliminate the spread of aerosols and provide patient privacy. Each treatment room is equipped with new and cutting-edge dental equipment to deliver guided biofilm therapy. The new space has enhanced the program's ability to serve the community.
4. What sort of impact do you see the UAMS Dental Hygiene Program making to address the needs in Arkansas' oral health professional shortage areas?
In 2020, Arkansas ranked 50th in dental health. In response, the state passed legislation implementing two types of dental hygiene collaborative care permits. Dental hygienists who obtain a collaborative care permit may provide preventive services to children in a public setting under indirect supervision. Those holding a collaborative care permit II may provide preventive services to children, senior citizens, and individuals with developmental disabilities in a public setting under indirect supervision.
Currently, just 29 hygienists in Arkansas have one of these permits. UAMS developed a collaborative care continuing education course, which is required to obtain a permit. All UAMS students take the course in their final semester. The hope is that this will increase the number of hygienists obtaining a permit.
5. What are your hopes for the future of your field in Arkansas?
Due to access-to-care issues in Arkansas, my hope is that Arkansas will one day have a mid-level practitioner to reduce the oral health disparities in the state.
Featured photo by Paul Knightly / iStock / Getty Images Plus