You may be familiar with the famous Ralph Waldo Emerson quote, "It's not the destination, it's the journey." In the case of many dental hygienists, the path to dental hygiene is not direct, or short, or without forks in the road. 
Anna Matthews, RDH, MS, associate professor in the Department of Dental Hygiene at New York City College of Technology of the City University of New York, and a member of Dimensions Peer Review Panel, shares her own story as well as those of two current dental hygiene students.
For many of my colleagues, their paths to becoming dental hygienists were relatively straightforward. Many knew early on, perhaps even as they were graduating high school or before, what they wanted to do after and how to get to their chosen profession. Certainly, inspiration can come from family members, friends, or our own dental experiences as a patient. Friendly and caring dental hygienists may share their own stories and tell about the profession and why they love it and, thus, spark an interest and ignite a life-long passion for dental hygiene in someone else. For countless others, however, the path to dental hygiene can be very different, taking longer through various turns, eventually leading to this field. I am one of these people.
I am now a dental hygiene educator in the very program I graduated from nearly 17 years ago—the Dental Hygiene Program at New York City College of Technology (CityTech) of the City University of New York. I was not born in the United States. I came here from a small country in Eastern Europe: Belarus. In my home country, I was a pediatric dentist and I loved my profession. I was sure that after assimilating somewhat in the United States, I'd go back to dental school and eventually return to practicing dentistry here. As I started my career in the dental field in the US as a dental assistant, I learned about the profession of dental hygiene—which did not exist in Belarus—and I became very interested, applying to our program at CityTech without hesitation. After working for several years as a dental hygienist and then completing my graduate studies in neuroscience— another field I became very passionate about—I was lucky enough to join our program first part-time and then as a full-time educator. I truly love what I do, and I hope my passion for dental hygiene inspires my students to not only succeed as dental hygienists, but also continue their education and follow their interests. Looking back, I never regretted my decision to take a different path in my professional career. 
Similarly, my two amazing current students, Justyna Varela and Michael Cheung, hail from far-away places: Poland and Hong Kong. Here are their stories:
JUSTYNA VARELA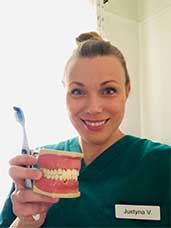 Having had traumatic dental experiences and developing dental anxiety as a child in Poland, becoming an oral health professional was perhaps the most unlikely career path for Justyna. She came to the US in 2000 as a participant in an au-pair exchange program, which places young people from other countries with a host family in the US to care for their children. Having lived with a wonderful family in New Jersey and helping them raise their children, Justyna's inspiration to become a dental hygienist came from her very first visit to a dental office in the US. Despite her dental fear and anxiety, Justyna felt safe and cared for after her first appointment with her dental hygienist, dentist, and their office staff. In her own words, 
"That first visit had a huge impact on me. I felt so inspired by the level of care, kindheartedness, warmth, and empathy from the hygienist. The impact of that first visit stayed with me for years, and every time I thought of a career path I might want to take, dental hygiene was the very first thing that came to mind. I just knew in my heart that I wanted to be that kind of person for someone else." 
Justyna's passion for dental hygiene is evident in her hard work in every course she has taken in our program and her compassionate care for every patient she sees. 
MICHAEL CHEUNG
After graduating high school, Michael, who immigrated to the US with his family at age 11, followed his older sister's steps by first applying to a pharmacy school. He quickly realized that he was more interested in forensic toxicology and so he continued his studies at the John Jay College of Criminal Justice in New York, where during his senior year he completed an internship with the New York City Office of Chief Medical Examiner. This is when he first encountered forensic odontology as part of identification process using dental and craniofacial radiographs, as well as collecting and examining the dental specimens from the crime scenes. He learned that forensic odontology was a vital identification tool, employed by dentists and dental hygienists following the 9/11 terrorist attacks. 
Michael currently works at the NYU Langone Hospital as a certified pharmacy technician and there he had an opportunity to observe the work of one of the hospital dental hygienists. He was, in his words, "immediately attracted to the profession" and he loves most the interactions and connections with the patients. Michael's knowledge and experience in forensics has helped him in his studies of oral anatomy, radiology, and pharmacology, and it enhances his knowledge and skills as a clinician. 
There are many stories like ours. I hope they too get to be shared and can ignite the interest of someone considering the dental hygiene profession. We all add our knowledge and experiences, our origins and languages, our voices and smiles to the amazing field of dental hygiene. 
Read Anna Matthews, RDH, MS, most recent articles "Monoclonal Antibodies and Their Impact on Oral Healthcare," and "Oral Health Considerations for Older Adults during the Pandemic."