Dental hygiene school is a test of perseverance. Many clinicians have been there, done that, and have plenty of helpful anecdotes that hopefully make you feel less alone as you embark—or continue—on your journey toward becoming a dental hygienist.
Dimensions Brand Ambassador Karissa Garneau, RDH, shares how she balances part-time work at an office in Ottawa, Ontario, Canada, with her studies at the University of British Columbia to obtain a bachelor of science in dental hygiene.
A dental professional returning to school to further his or her education in the dental field or related branches, but also looking to maintain part-time work in a dental office may struggle to balance the two coincident but diverse worlds. What has worked best for me has been keeping organized by way of schedules and a calendar, maintaining a healthy lifestyle, and receiving encouragement from a solid support system.
ORGANIZATION
As a working student of the dental sciences, time management has become my top priority. I reserve the days I am working for patient care, commuting time, and relaxing after work. Without proper organization, these days would also be filled with coursework. Of course, there may be times where coursework is so demanding that I need to make time to attend to it on my workdays, but I try to avoid this by dedicating time for my studies on my days off from work. I do the bulk of my assigned reading on my off days. It is then easier to work on assignments or finish readings in pockets of time that I find throughout the week.
A WORK SUPPORT SYSTEM
The people around us play a much larger role in our lives than we typically acknowledge. Surrounding yourself with a strong support system can make all the difference in how efficiently you can balance the various aspects of your life. I am fortunate that I adore my workplace and my coworkers, and my employer constantly encourages me to never stop learning. If your workplace is not as supportive as mine, there may come times where you must choose between work and school. Perhaps there is a sick call and they ask you to fill in, or even a planned vacation where you agree to take on more than your regular shifts. It is important to plan for these times whenever possible or to catch up on work pushed aside in an unforeseen circumstance. Your coworkers play a huge role in your support system even if indirectly, as they will be the people you turn to if you need a shift taken to catch up on schoolwork or for a scheduled exam.
It is arguably even more important to maintain your own personal support group through friends and family, however that may look to you. You cannot be expected to do it all on your own, and sometimes people outside of the dental world can not only encourage your efforts but also gently remind you to maintain time for yourself when it is warranted.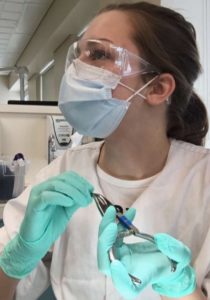 BUY A CALENDAR
Reviewing syllabuses at the beginning of each term provides you with detailed expectations to help you plan out your schedule. I then go through my personal calendar and add in all important due dates. If an instructor gives a recommended reading schedule, it may be helpful to add in the required chapters for that week into your calendar. I prefer to check online every week as sometimes the recommended schedule changes, or the instructor has something to add in about a specific reading. I also add in my work schedule—pre-COVID-19 I had a set weekly schedule but it will be more flexible upon our return so this will be a very important step to take. By organizing my schedule in this fashion, I receive a visual of my time expectations and can alter it proactively ahead of a potential scheduling conflict. 
SCHEDULE ME TIME
An often overlooked yet important aspect of time management is the necessity to spend adequate time on self-care. Working long hours without taking the time to care for your own needs can result in burnout, which has detrimental effects on overall health and well-being. Incorporating activities that you like to do and that bring you joy will help to prevent feeling as though you have worked yourself dry. On very tightly scheduled weeks, I will schedule a time just for me—a Friday or Saturday evening works perfectly. Self-care looks different for everyone and for me changes based on how I'm feeling: sometimes a bath and a good book are how I treat myself after a long week, and sometimes an extra-long run or workout is just what I need to give my mind some rest. Furthermore, adequate nutrition and sleep are important tools for proper body functioning—a body is not at it's best when it is hungry or tired. Caring for physical and emotional health enables your body to have the energy and mental space to study at your full capacity, ensuring the best possible results.
IT'S ALL POSSIBLE
Returning to studies can be challenging and the added stress of balancing part-time work can seem intimidating, but it is so rewarding! I cannot express how enriching and validating it is to be studying in a field that I am also currently working in. I often find myself relating my experiences in private practice to something I recently read or gaining more insight from my textbook due to something that I'd previously seen on a patient. By maintaining an organized calendar, a healthy lifestyle and a solid support system, you can manage your time adequately and produce your best work.