Olga R. Zozaya, RDH, BSDH, a clinical dental hygienist who has been working in periodontics for 16 years, and a clinical and laboratory instructor at Concorde Career College in San Bernardino, California, shares tips on how to make the switch from a nonhealthcare profession to dental hygiene.
I went to dental school for two semesters long before starting a family and teaching preschool for 9 years to be close to my boys. Unfortunately, my vocation dwindled as they grew older. I continued to attend college to maintain continuing education units and was close to transferring from a community college to a university as a Liberal Arts major but realized I wanted to resume my path into dentistry. It took an additional 18 months and three colleges to complete my science pre-requisites. When I was ready to advance, my counselor gave me options for dentistry and dental hygiene. He encouraged me to apply at the college I was attending and explained the advantages of dental hygiene's flexibility, timing, and cost. This profession was the perfect fit for an intelligent, ambitious, and busy momma!
Here is how I made the jump from Montessori preschool teaching to dental hygiene.
When selecting a program, I considered my professional goals, time frame, and finances. I also wanted to practice in the clinical setting. For these reasons, a community college and an associates' degree were the best fit. Admission is limited, so I applied to three community colleges and was accepted into two.
OVERCOMING CHALLENGES
I faced several challenges after 15 years of not working in the dental field and with English as a second language. First, I was not familiar with dental terminology or equipment. It took longer for me to do what my peers did reflexively, and I was consistently running behind. Secondly, my brain was wired in Spanish. It was so challenging!
I was open about connecting and asking for help from those who could provide mentorship, including classmates and instructors. I concentrated on every step of my progress. Our director created a list of terminology at the beginning of the program. We were asked to complete definitions with random answers to what we thought they could be. I would often check my improvement, and I celebrated when I could define one! My vocabulary in scientific English was also growing!
A NEW SCHEDULE
My previous occupation required a full-time schedule, hence with the help of family, I completed my pre–requisites at night. When I started hygiene school, I quit my job to depend financially on my spouse and student loans. I also took a summer assignment as a waitress. Many of my coworkers worked once or twice a month as registered dental assistants, and they
saved every penny. The beauty of this journey is that you are too involved to shop or spend much! Simple pleasures, like quality time spent with loved ones and a nice meal, are usually enough to help you decompress.
BE EXCITED TO LEARN
As a returning—or rather new after so long—student to dentistry, I felt insecure and curious. I paid extreme attention to details, I avoided "cutting corners," and probably drove my instructors crazy with countless questions. Still, they were inherently extra patient and kind, and they appreciated the interest (I think!). Through hard work, I figured out what my strengths were: explaining and simplifying concepts for others and test–taking. It was nice to help my peers and also learn from them!
THE IMPORTANCE OF SHADOWING/MENTORING
I spoke to several dental hygienists before starting the program, and although I did not have the opportunity to shadow, these conversations helped me set expectations. I was also fortunate to have two competent dental assistants as my study partners. Although their level of performance intimidated me, I wanted to learn, and I did! Also, I approached the instructor who I connected best with, with a candid SOS sign. She gladly held my hand through the program and was swift to encourage me when needed. Until today, I consider these three people, muses, mentors, and dear friends.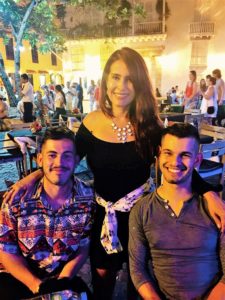 WHAT I LEARNED
The main lessons I learned were related to striving for excellence while being humble. Being intentional at attempting to become my best self propelled me through a great deal of challenges. In hygiene school, as in any other setting, we are all consistently learning from one another; I believe everyone has something unique to offer. Collectively, my class studied a great deal, slept very little, ate a million m&ms, cried a lot, and overcame many obstacles. Happily, we were all employed within 6 months of graduation! My degree empowered me to provide for my two young boys as a divorced 30-year-old woman while attending sports events and even making dinner. Today, it gives me the leisure to further my education and share my knowledge with new generations, while teaching them how to succeed at serving. Transitioning from another field is far from effortless, but it can be done, and the reward is worthwhile!