Dimensions Brand Ambassador Lisa Hardill, RDH, BHADM, shares how dental hygiene students can move forward in the profession by committing to becoming lifelong learners.
As a dental hygiene student, all you can think about is completing the curriculum. But right from the start, dental hygiene students need to understand one critical piece of information: becoming a registered dental hygienist is just the beginning of your learning journey that truly never ends. When students enter the field with this mindset, it can be a game-changer.
Dental hygiene students need to remember that dental hygienists must stay on top of emerging information to make evidence-based, informed decisions and apply it to practice. When we do this, we are serving in the best interest of our patients and empowering ourselves as professionals.
Once students understand life-long learning is just part of being a dental hygienist, the door will open to amazing possibilities and opportunities, such as identifying leaders and those who are truly passionate about being preventive specialists and making a difference in someone's life. We all know dental hygienists are doing more than just cleaning teeth, and students need to feel this right from the start and know their place within the medical and dental fields.
FIVE RULES TO FOLLOW
There are five critical areas dental hygiene students need to focus on, and I've personally experienced how each area impacts future success.
Believe in yourself and the impact you can make on your patients and the profession itself.
Find the confidence to have a voice and use it right from the start. Your teachers and professors are more than willing to listen and hear students' perspectives; this is how we learn from each other.
Surround yourself with people who motivate and inspire you in school. This will spark interest to get more involved in the profession, leading to career fulfillment.
Enjoy the process of learning in school, and, when you graduate, be sure to challenge yourself with new learning activities.
Network with dental professionals, fellow dental hygienists, dentists, and dental assistants, this will lead to opportunities to empower yourself.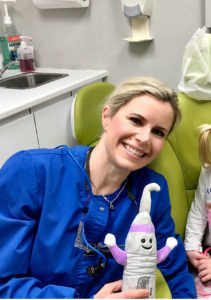 COMMIT TO LIFELONG LEARNING
Today, we are privileged to have information at our fingertips. We have access to endless learning platforms to meet the needs of all kinds of learners. Understanding how you learn best and seeking activities that complement your learning style can help you enjoy learning and support your success in implementing this knowledge into practice.
Advancing in the field of dental hygiene means we need to look ahead and not stand still. Welcoming life-long learning with open arms is key, regardless of annual licensing or registration requirements. Look at learning as a path to success, not something to put on hold.