Dimensions Brand Ambassador Ashli Jones, RDH, BS,  who practices in Raleigh, North Carolina, discusses how dental hygiene students and dental hygienists can get involved in dental care volunteer opportunities.
I decided to become a dental hygienist because I've always wanted to help others. I worked for 5 years in public health and frequently felt the impact of my work as most of my patients had not had their teeth cleaned in years or ever! After 5 1/2 years in the public health sector, I moved out of state and started working in a private practice.  While my career still involved helping people, I was longing to do more.  
BREAKING INTO INTERNATIONAL WORK
I have always thought about doing some type of global dental relief but was worried I may not be able to utilize my hygiene skills, as a lot of the trips only allowed for assisting the dentist with extractions. But then one day the dentist I work for was out of the office and his replacement for the day told me about the mission work he does through his church. He explained the team travels to Bolivia, South America, for 10 days or so, taking an entire medical team. I was definitely interested.  I took Spanish classes throughout middle and high school and while I am not fluent, I can get by.  A few months later, I was on a plane traveling with 23 others to help serve the people of Bolivia!
Bolivians came from hours away to see American health professionals to get help with all of their medical needs. I can confidently say that every patient I saw had never had his or her teeth cleaned before. Each patient sat in my chair and trusted my knowledge and skills. They were gracious and thankful, ending the appointment with a hug, kiss, and a "God bless you."  This was what I was looking for; a chance to change a life within an hour or so.  It was so rewarding that I returned a year later for another 10 days. I would highly recommend every dental hygienist seek out this kind of opportunity.  That being said, there are some things to consider when you travel internationally to practice.
Keep an open mind. You are going to see, hear, and experience things you may have never experienced before. In Bolivia, you are greeted with a hello, and a kiss on each cheek. Men and women exchange this salutation. It can be a little forward for those not used to the culture. Even though I speak Spanish, some words I did not know or meant something different (tortilla refers to an egg-based item, for example).   With regards to the new culture—go with it!  Enjoy the journey and the experience!  
Be prepared to make do. We had a few hours to set up our clinic, combing through instruments and supplies that had been sitting for a long time. You have to work with what you have. Some of my instruments were one-ended, some of the tools were very dull, others were antiquated. For instance,  I used a piezo machine that was extremely heavy and less effective than what I am used to using. The suction was not very powerful, the autoclave was super small, and the electricity waivered frequently. Take this in stride. Remember why you are there. Use what you have.
Be proud of your work. Remember you came to help and that's what you are doing! Some days I ran out of time in the day to see everyone. Some of my tools prohibited me from doing a perfect job, such as a leaky, old ultrasonic with a dull tip. But I kept going, knowing that the patients had taken the time to come see me, looking for medical help. In the end, their smiling faces made all the hard work worthwhile.
Have fun. Treat these experiences as opportunities to learn new things, meet new people, and to utilize your hard-earned skills to help the less fortunate. Try different foods, learn words in a new language, experience the culture. I promise it's worth it!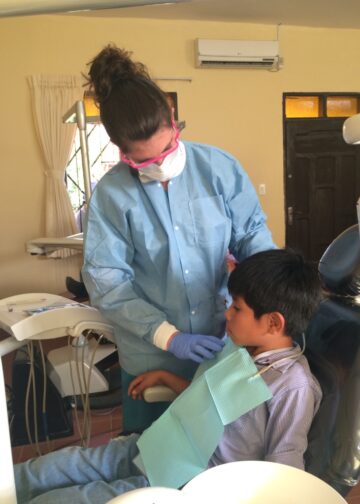 I highly encourage my fellow dental hygienists to look for fun opportunities to use your helping hands!  My opportunity came to me, but I recommend you seek out ways to help. International trips are a good way to start, but sometimes your surrounding area needs the most help. Volunteering your time is also a great way to help you become a more well-rounded clinician.
For more information on global relief, visit:  globaldentalrelief.org.  Otherwise, check your local dental schools, churches, or public health centers. Volunteer opportunities exist globally, but also in your own backyard!