Dimensions Brand Ambassador Jayme Tubandt, RDH, BSDH, a clinical dental hygienist at Falls Community Dental in Sioux Falls, South Dakota, discusses how she made the decision to practice in a Federally Qualified Health Center.
I became a dental hygienist to help improve the oral health of others and there is no better place to do this than at a Federally Qualified Health Center (FQHC). Working at a FQHC is often hard work, but at the same time, it is an extremely rewarding career choice within the realm of dental hygiene. 
AN EYE-OPENING EXPERIENCE
I attended the University of South Dakota (USD) in Vermillion for my Bachelor of Science in Dental Hygiene degree and, as there is not a dental school affiliated with the hygiene program, students visit many different locations for clinical rotations. These rotations include providing preventive care to a plethora of at-risk populations, such as various level security state prisons, the South Dakota Developmental Center, nursing homes, different Native American reservations, and some schools. Also, the main campus clinic and its sister clinic, operated by USD in the city of Sioux Falls, provide dental care at a discounted rate so many individuals who can't afford full price dental care at a private office seek out these clinics because they receive quality dental care at a reduced rate. 
Providing preventive dental care to these vulnerable populations during college not only intrigued me but also ignited a passion within me to provide oral healthcare for those most at-risk upon graduation. 
The professor of our community class also accompanied us on many of our rotations and really helped us to understand the mentality of the populations we were treating. Until the actual field experience in these various clinics, I was completely oblivious to the fact that oral health discrepancies between certain groups existed at all, let alone to the extent they do. However, once my eyes were opened to these differences, I could no longer turn away from them. I made the conscious decision to do my part in helping to improve oral health for everyone, not just those able to afford it at a regular dental office.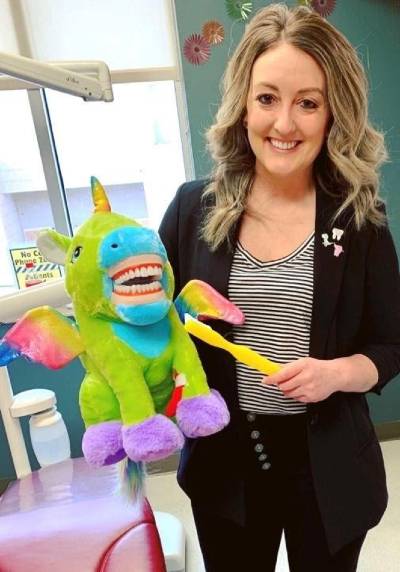 A LASTING IMPRESSION
Directly out of college I worked on a research study aimed at preventing tooth decay in children on the Pine Ridge Indian Reservation in southwest South Dakota. The caries rate among young children in this area of my state is roughly four times higher than the national average. I then moved closer to home to work at a private dental office 4 days per week. I was able to find my place at my current FQHC by first subbing sporadically on my day off per week and then applying when a full-time position became available a couple of months later.
I chose to work in public health because I have an unwavering passion for improving the oral and therefore overall health of any and every person I meet. Working at a FQHC was a decision I made because I felt the need to help people in any way possible, but especially by using my college degree and enthusiasm for oral health! Every day I am presented with the unique opportunity to provide preventive dental treatment to new people of various cultures, religious affiliations, socioeconomic statuses, education levels, and any other category you can think of that diversifies each one of us from one another.
The vast majority of patients are so thankful to have a dental home they can feel comfortable going to for routine dental care. Although there are some challenges in working in a FQHC, I love helping to improve the oral health of some of the most vulnerable populations and cannot see myself being a dental hygienist in any other clinical setting!