February is National Children's Dental Health Month! Dimensions' Brand Ambassador Jayme Tubandt, RDH, BSDH, a clinical dental hygienist at Falls Community Dental in Sioux Falls, South Dakota, continues to promote the importance of oral health for children despite COVID-19 limitations. 
It's always worthy to set aside time to acknowledge and celebrate the importance of oral health for children. Because poor oral health is linked to myriad systemic health issues in addition to uncomfortable, painful, and often unsightly oral complications, fostering good oral hygiene habits at a young age is crucial. Even if in-person oral health education is not an option within your community this year, it's still possible to effectively promote the oral health of children! 
VIRTUAL OUTREACH
The Federally Qualified Health Center I work at not only sees a plethora of children for dental care at our main location, but we also treat students at three school-based clinics within our city. Though it often feels like we celebrate National Children's Dental Health Month every month, we are able to provide additional outreach during this fun time! 
During a typical February, our clinic's three hygienists provide in-person oral health education to various ages. Along with oral health instruction and education, showing students photos of what can happen if they neglect their mouth always results in some shock. (My favorite is The Grosser More Disgusting But Still Totally Cool Mouth Book by Theodore Croll, DDS). We also enjoy aptly displaying the sugar content of various popular beverages to alert our students to the excessive sugar they contain.
Although this year we are unable to reach out in-person due to COVID-19 protocols within our school district, I recorded an oral health video earlier in the school year that will be played for the students. We also supply the students with a new toothbrush, toothpaste, brushing chart, and tooth tattoos as a way to promote good oral health and a little fun!
Over the past few years during National Children's Dental Health Month, we have been fortunate to have a local news network highlight the work our clinic does to improve the oral health of children within our community. These stories and segments are also excellent opportunities to get oral health tips for children to a much larger audience throughout our entire state!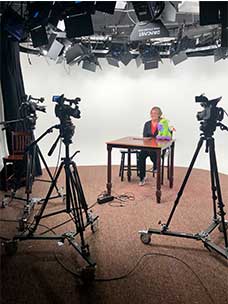 EDUCATION
Any dental hygienist can attest to the common infrequency of brushing and flossing exhibited by children of all ages accompanied by the high amount of sugar consumption. Because of this, we must emphasize the importance of good oral hygiene habits to the caregivers of children. We need caregivers to understand that the oral health of children is pertinent. Not only is tooth decay the most common chronic disease among children, but this preventable disease often results in unnecessary pain and too many hours of lost school time. Poor oral hygiene habits learned during childhood can lead to a lifetime of dental disease and early tooth loss. It is also extremely helpful to get children in the habit of having their teeth cleaned and examined by a dental professional at a young age. 
Although stressing the importance of children's oral health to caregivers is of vital significance, it is still valuable to have discussions with all children, despite their age. Even preschool-aged children like to replicate what they are shown, so having them work on deciphering between a photo of a healthy snack and a sugary treat can be a good place to start. Simply reassuring children that even though they are "independent," it is OK to have help from a caregiver when brushing because we all need help sometimes. Children of every age also tend to flock toward brushing the teeth on the nearest puppet or typodont.
Now is the time to be creative! Film a video, send oral health goodies to some local daycares, or set up a live virtual oral health education event for the students of your patient who is a teacher! Any way to spread the word about the importance of starting good oral health practices at a young age will help in the continual battle to prevent oral diseases.